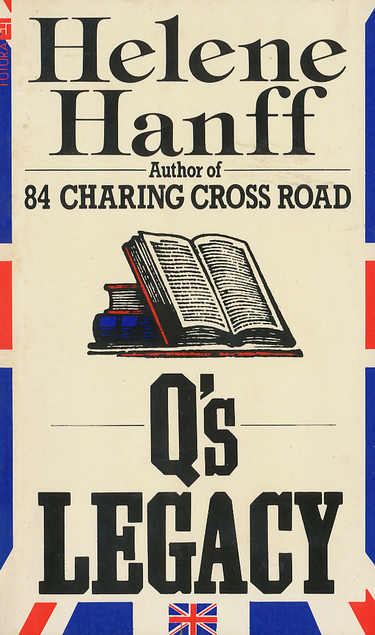 I read about Q's Legacy by Helene Hanff very recently on someone's blog and until then I had absolutely no idea of its existence. A quick check of Fife's libraries catalogue told me that they didn't have a copy so I quickly resorted to the internet as I enjoyed reading 84 Charing Cross Road so much.
A couple of days later a paperback copy of the book dropped through the letterbox and I wasn't too chuffed to see that although its condition was described as being very good – it wasn't as it is very badly creased back and front. That's why I prefer to buy books in second-hand bookshops as then I know exactly what I'm getting.
Anyway, back to the book. Q's Legacy was first published in 1985 and it's a slim volume with just 138 pages. I whizzed through it in no time, I really enjoyed being in the author's company again.
The 'Q' in the title is Sir Arthur Quiller-Couch. Helene Hanff hadn't been able to continue with her college education due to lack of funds, but she embarked on a course of self-education through the library. After consulting a librarian who directed her to the Dewey 800 section she began to work her way through the books there, but it was when she reached Quiller-Couch's books that she really felt she had hit a gold mine and this book is her tribute to him. As all book lovers probably know she started a correspondence with Marks and Co, a second-hand bookshop in London and ended up writing a book about her correspondence with them.
But even after the success of 84 Charing Cross Road she was still living a precarious hand to mouth life, renting a one room apartment in New York and never having enough money to go and visit her beloved London and all the literary locations she wanted to see.
Eventually with help from the publisher Andre Deutsch who allowed her to stay in his mother's house she did manage to get to London again and met several fans who had been keen to show her the sights. I must admit that I was quite amazed that she had such a close relationship with fans, being happy to speak to them on the phone, her number was in the book. Lots of them even sent her copies of her book so she could sign them and send them back. That cost her three times what she got for the sale of each book! – not that she was complaining. She was only getting 7 cents for each copy sold. She also got a small advance of course.
I really enjoyed reading this one although not for the first time I was very annoyed with Andre Deutsch who had a very lavish lifestyle, all on the backs of the authors that he published and obviously paid very little money. Sadly writers are often so thrilled that someone actually wants to publish a book they have written that they are easily fobbed off with scant payment for their work.
However, the writer and editor Diana Athill gets a few mentions in this book as Andre Deutch's partner and that reminded me that she was another woman who was kept on minimal wages for years by him – and I bet she was doing most of the actual work. Athill lived for most of her life in rented accommodation as she didn't earn enough to buy a home. Shame on Andre Deutsch.
Anyway, if you enjoyed 84 Charing Cross Road you'll love this one too. It has some really funny bits in it that I just had to share, but I'll leave them for you to discover for yourself.