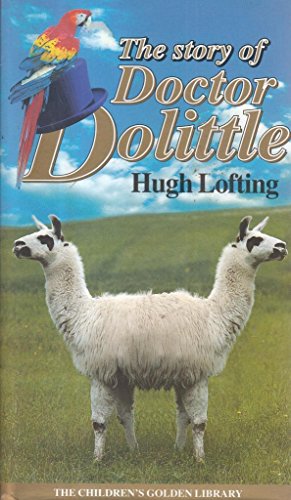 The last book that I read for The 1920 Club week which finished yesterday was The Story of Dr Dolittle by Hugh Lofting. I've read a few of these books but this is the first one which explains that Dr Dolittle had been a doctor for humans, but he was far more interested in the many animals that he had in his house/surgery. Not surprisingly this upset his patients, one sat on a hedgehog and eventually he found he had only one patient left and no money was coming in. That one patient – the cat's meat man – suggested that he should become an animal doctor. Dr Dolittle set about learning to speak with animals and in no time he was able to pay his bills again.
When a swallow brings news that all of the monkeys in Africa are dying of a strange disease (yes I know!) Dr Dolittle sails to Africa with lots of his animals including Chee Chee his monkey. So begins the adventure that sees them being locked up by a king when they travel through his land, but of course Polynesia the parrot helps them to escape.
Of course Dr Dolittle does manage to save the lives of the monkeys who haven't already succumbed to the mystery disease that has killed thousands of them.
If only Covid-19 could be so easy to sort out.
This was an enjoyable read and it's the first in a series of books which was turned into the film starring Rex Harrison in 1967 and more recently Robert Downey Jr. in 1998.
My other Dolittle books are really nice old ones but this on is a modern one from 1998, published by the Daily Mail – of all things. The rather naive illustrations, also by Lofting, are charming.