Ballet Shoes by Noel Streatfeild was first published in 1936.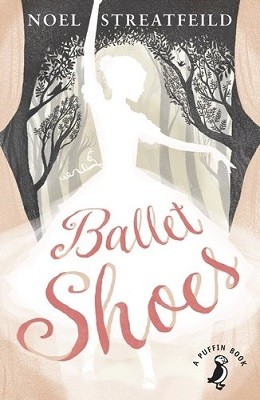 Matthew Brown is an elderly palaeontologist who spends most of his time travelling the world collecting fossils which he sends to his home in London which is run by his great-niece Sylvia and her old nanny. He manages to pick up three young girls over some time in differing circumstances, the last one being a small baby, and takes them home with him where Nana and Sylvia have the task of bringing them up.
It's a difficult state of affairs for Sylvia as her uncle, known as GUM, leaves her some money and takes off on his travels again. As the girls (Pauline, Petrova and Posy) grow up the financial situation is very precarious as GUM stays away for years and doesn't send any more money, for all they know he might be dead as they haven't even had a letter from him for years.
The girls are all determined to help Sylvia and when they are enrolled in a stage and dancing school they are able to contribute to the family budget. Bizarrely it's never mentioned that Sylvia might be able to get a job to help out!
I enjoyed this one, the character of Petrova was especially good as she was so different from the usual girls of that time, she was keen on cars and how they worked and was happiest when up to her ears in oil and car parts. Despite having little interest in the performing arts she was still keen to pull her weight and earn money for the family.
I think this is the fifth or sixth children's book that I've read by Streatfeild and she does seem to have been slightly obsessed with the stage and performing. The only one of her books that I have unread in the house is Saplings, one of her books for adults, it'll be interesting to see what that one is about. Have any of you read it?
My copy of Ballet Shoes is a modern Puffin book. Although these editions have nice clear print I must admit that I generally prefer the designs of the old Puffin books.