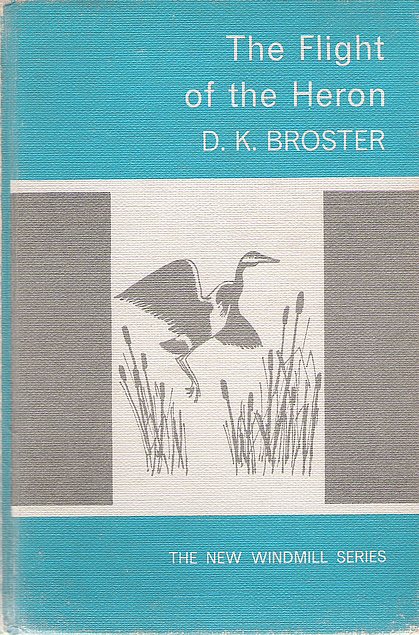 The Flight of the Heron by D.K. Broster was first published in 1925. It's the first book in a Jacobite trilogy, the others being The Gleam in the North and The Dark Mile. Broster was an English woman who was inspired to write this trilogy after a five week long visit to friends in Scotland, she says that she consulted 80 reference books before embarking on writing the series. I can believe it. I'll definitely be reading the other two. Broster served as a Red Cross nurse in a Franco-American hospital during World War 1.
The setting is 1745, the book begins just before the Jacobite rebellion. Ewen Cameron is a young Highland chieftain who has spent years in France as a boy being educated and avoiding the English as his father had been a Jacobite supporter. There's a large Scottish community and that's where he met Alison Grant whom he's now engaged to.
With the arrival of Bonnie Prince Charlie and the gathering of the clans at Glenfinnan Alison is obviously worried about the outcome, but with Lochiel supporting the Prince despite the fact that he hasn't brought the promised French help with him, Clan Cameron led by Ewen will be in the thick of any battles.
Ewen's foster-father Angus has the 'second sight' although he's blind and he warns Ewen that a heron plays some sort of part in his future, but he can't say whether it is for good or bad.
Captain Keith Windham of the Royal Scots is one of the many British Army soldiers inhabiting the Highlands at the time. He's a career soldier and isn't happy about this posting, he wants to be in Antwerp instead of in the old and wet Highlands which as far as he is concerned is infested with wild rebels. His meeting with Ewen is a surprise to him as what looks like a wild man to him turns out to be an educated and honourable gentleman. Captain Windham has always been a bit of a loner, having decided that that was the best way of advancing his career but he finds that he is drawn to Ewen and throughout their subsequent meetings they avoid the chance to do each other damage as they should given that they are on opposite sides.
This is a great read and the writing gives a really authentic feel of the Scottish Highlands and also the Edinburgh of the time. I haven't read the Diana Gabaldon books, I've been warned that they're probably too racy for my liking, but I have watched Outlander – I just roll my eyes at the many sex scenes, but I suspect that she read this book before setting out on her long series of books set around the same time – on and off. There are a lot of similarities between the characters, and even the shocking possibility of a clan chief (gentleman) being whipped appears in this book, but obviously back in 1925 there could only be some hints about male sexuality.
I'm always interested in who a book is dedicated to, this one is dedicated to Violet Jacob, in homage. She was a Scottish writer who had a very grand upbringing as her father owned the House of Dun which you can see here if you're interested. I'm presuming that it was at this house with Violet Jacob that Broster stayed for five weeks and was inspired by the surroundings to write these books.
This is the fifth book from my 20 Books of Summer list.