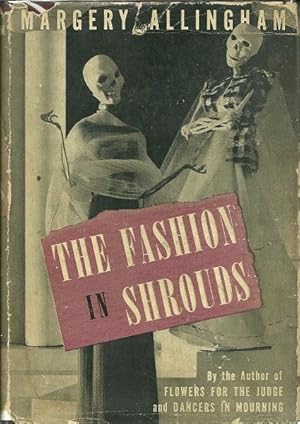 The Fashion in Shrouds by Margery Allingham was first published in 1938 but my copy is a hardback reprint from 1940 and has 437 pages. It was so much more pleasant a reading experience compared with the vintage Penguin crime Allingham editions that I usually read.
I had a look at some reviews of this book on Goodreads and it comes in for quite a bit of flak from some readers for being misogynistic. I read it from a different angle and had a good laugh at a lot of it, which I'm sure was intended by Allingham. Quite often the 'mysoginistic' comments are made by other women and used to be called plain bitchy. Apart from anything else, this book features the lovely red headed and smart Amanda who eventually married Campion and in my opinion leads to him becoming a far more rounded character – she improved her man, just as many a good woman does I'm sure.
It also features Valentine, Albert Campion's sister. She's working as a designer in a London couturier's, she's talented and very well-connected, exactly what is needed to attract well-heeled clients to the business. When one of her special designs for Georgia Wells a famous actress is stolen it kicks off series of events that need Campion's attention. Georgia Wells is one of those women that should come with DANGEROUS TO MEN stamped on her forehead. She enjoys the adoration of men and is more than happy to steal the men of her friends, particularly Val's man – and rub their noses in it. You can just about hear Campion's teeth grinding, and Georgia's husband is none too pleased either.
Then there's a string of murders, but fear not as Campion sorts it all out of course.
This did remind me of a storyline in The House of Elliot which was a series revolving around a fashion house in London owned by two sisters. I loved it when it was on TV in the 1980s but when I saw an episode of it not that long ago it seemed quite stilted and also 'hammy'. Acting styles often change over the years I suppose.
Anyway, back to the book – it has put me in the mood to read more by Allingham and I'll have to have a look and see what I still have of hers – unread.