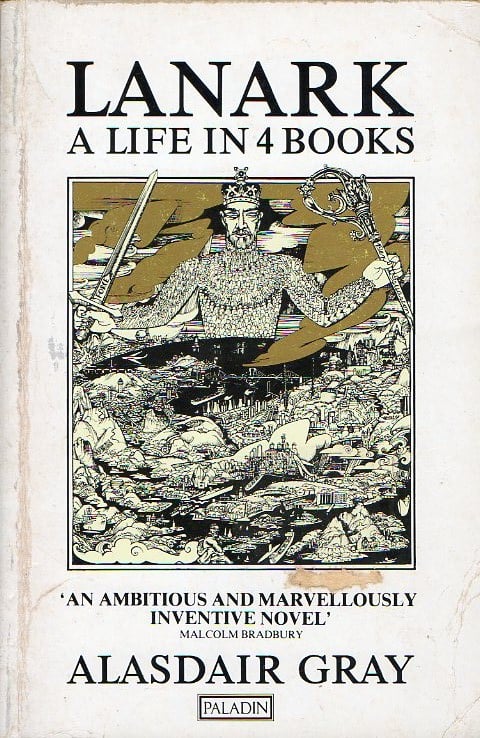 I read Lanark as part of the Read Scotland 2014 Challenge, I chose this one because I hadn't read anything by Alasdair Gray before although we have all of his books, this one must have been sitting on a bookshelf here since 1981, it's the first one he had published and was named as the second best Scottish book recently, Irvine Welsh's Trainspotting was the winner. As ever, these polls should be taken with a bucketful of salt as something like less than 500 people voted for it, so not exactly a large poll.
Anyway, I'm glad that I read Lanark although it wasn't really my cup of tea, well it was curate's eggish as it was good in parts. It's quite a chunkster at 560 pages and in fact the full title is Lanark A Life in 4 Books. It's obviously very autobiographical, Alasdair Gray is an artist as well as a writer.
Lanark is not the place, but is the main character and he is also known as Duncan Thaw. Duncan is a young Glaswegian who hopes to become an artist. As Thaw was living in the part of Glasgow where I was actually born and he visited the park which I have some of my earliest memories in I found those parts really interesting but early on parts of the story become really fantastical, like something written by Lewis Carroll – but for adults, and it was really quite weird. Jack said to me that when he read it when it was first published he thought it was brilliant, nothing like it had been written by a Scot before, but Jack is a keen reader of SF.
The blurb on the front says: 'An ambitious and marvellously inventive novel' Malcolm Bradbury
Some blurb on the back says: 'When dawn comes up and then retires in dismay, we find ourselves in the presence of an overpowering surreal imagination. A saga of a city where reality is about as as reliable as a Salvador Dali watch.' Brian Aldiss
It's certainly a novel which makes you think, as civilisation as we know it has disappeared.
Definitely different from my usual choice of reading matter but it's good to have a change now and again. For my second Read Scotland choice I opted for Rockets Galore by Compton Mackenzie, much more my thing.