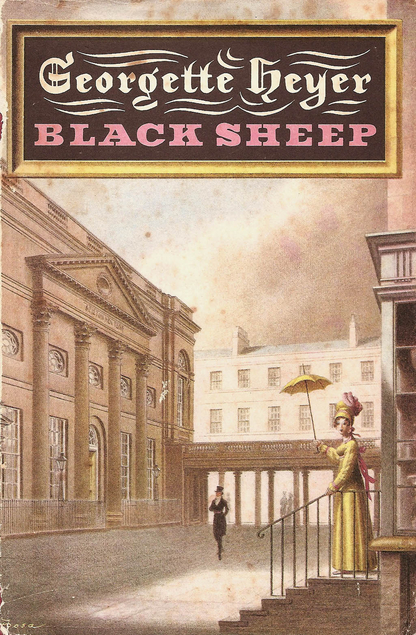 Black Sheep by Georgette Heyer was first published in 1966 and my copy seems to be a first edition. If you're wondering which book to read next from your to be read stacks and you just can't make up your mind – as I often can't, then a Georgette Heyer book will always hit the spot – I find.
The setting is Bath where unmarried sisters Abigail and Selina Wendover share the custody of their seventeen year old niece Fanny. Fanny's parents are dead but have left her very well off when she comes of age, meaning that she's a prey to all fortune-hunters – a type of beast which haunts the streets of Bath.
Stacy Calverleigh also inherited a large fortune but he has run through it all with his serious gambling habit and in no time at all he's targetting Fanny for her money, and she very quickly believes she's in love with him. But her Aunt Abigail knows of Stacy Calverleigh's reputation and is determined to protect Fanny from him.
This brings Abigail into the society of Stacy's Uncle Miles. He is the Black Sheep of his family and was sent out of the way to India to find his fortune (or fail) twenty years ago. Miles Calverleigh has just returned from India for good but he isn't interested in his nephew, he's enamoured of Abigail. But she believes Miles is a bad lot, she knows that he was expelled from Eton before being packed off to India, so she's not interested in him.
If you've already read Georgette Heyer's books you'll know that there's a lot of witty dialogue involved. The blurb on the inside dustcover says:

Black Sheep is one of Miss Heyer's lighter-hearted romances, with a charming heroine and a most intriguing hero – mysterious, good humoured, cynical, outrageous and in the end irresistible.
A good read.