A wee while ago I signed one of those Change.org petitions in support of models who are being asked to starve themselves in the hope of being given a modelling job. I believe the petition was started by a young woman who was told that she wasn't thin enough at size 8 (UK) they wanted her right down to the bone.
Every now and again I get updates as to how the petition is doing and about MPs and such who have taken an interest in the subject. I had been under the impression that the fashion industry was beginning to be a bit more responsible and humane. So it was with a huge shock and revulsion that I noticed the current issue of the fashion magazine Porter, while I was standing at a supermarket check out. It's no exaggeration to say that I've seen healthier looking people on their death beds. The actual magazine cover looks worse than it does in the image below, the model's skin is grey and she looks totally emaciated, she looks like she is too weak to focus her eyes, I believe the look used to be called heroin chic, but I just had a huge urge to track the model down and try to talk some sense into her, no career is worth looking like a concentration camp victim. I hope that for some odd reason she has had a horrific make-up job done on her.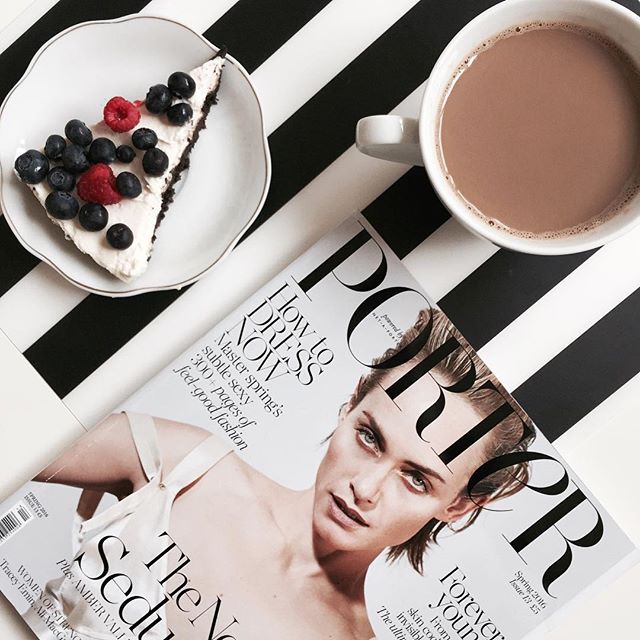 I believe that Porter is a fairly new glossy magazine and it prides itself on being – the fashion magazine for the stylish, intelligent woman of now.
So it seems bizarre that such an unattractive image was chosen for the front cover. I've had a look back at some previous covers and there has been nothing as bad as the one above, in fact the models are usually quite attractive and healthy looking. Hopefully this cover is just an aberration, or maybe it's two fingers up to the people who are trying to get model agencies to change their evil ways.
I really think that it's about time that magazine distributors told editors that they will not deal with covers that show stick thin models who look like death. Supermarkets shouldn't be putting such images in front of their customers either. If I had a young daughter I'd hate her to think that that was a look she should emulate.
Susie Orbach said that – fat was a feminist issue, surely thin is too!