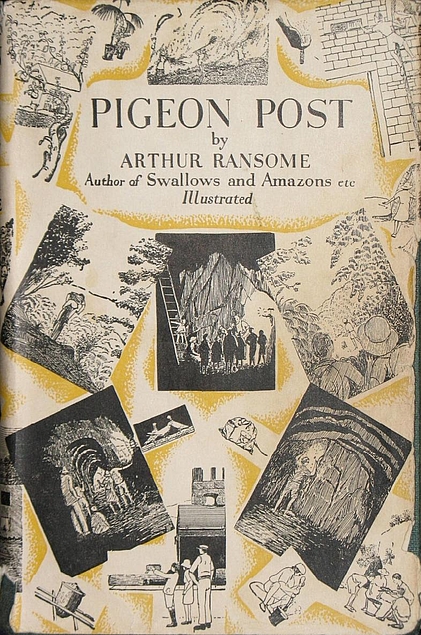 I read Pigeon Post by Arthur Ransome as my first book for the 1936 Club, it's the sixth book in his Swallows and Amazons series and I can't say that it was a favourite of mine. To be fair the the Swallows and Amazon children aren't enjoying themselves much to begin with. It has been a dry summer and the ground is parched so there's no water near the camping ground they intended to pitch their tents. This means that they're having to camp out in the back garden and because of the fear of a camp fire setting the whole area on fire they aren't even allowed to cook for themselves.
Nancy and Peggy's Uncle Jim is on his way back home to the Lake District, he's been having an adventure of his own in South America, searching for treasure unsuccessfully. The children hear a rumour of a long forgotten old gold mine in the nearby mountains and set about looking for it, they know it is in a cave with some heather nearby. But they're upset by the appearance of a suspicious man that they name Squashy Hat. He's roaming all over the hills and daubing paint on stones, they're sure he's also looking for the gold.
Things improve when Titty discovers that she's able to dowse for water and they manage to dig a well which gives them good water, so they are able to camp out after all, and they can communicate with Mrs Blackett by using some carrier pigeons.
Other readers seem to have really liked this one, and it did win the Carnegie medal, but I was never going to enjoy the subject as the children went off every morning, all armed with their hammers, merrily attacking the Lake District mountains with them and crushing up loads of quartz. Even as a child I had an aversion to mines and quarries, especially quarries due to my beautiful local mountain being completely hollowed out for use as hard core for road building! I'm looking forward to reading the next one in the series though.