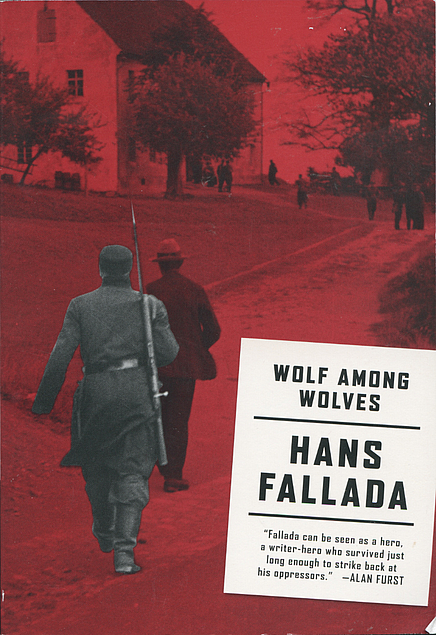 Wolf Among Wolves by Hans Fallada was first published in German in 1937. I didn't like this one as much as other readers seemed to have. It might just have been the wrong book at the wrong time, but I felt it didn't need to be so long (793 pages).
The book begins in Berlin in 1923 where the German economy is in freefall with inflation getting crazier every day, the German Mark is falling daily against the American Dollar, people in the city are starving as their wages are worth nothing by the time they get paid, and one dollar is worth millions of marks.
Wolfgang Pagel, a young ex-soldier who had been at the front is the spoiled son of a famous but now deceased artist. He's estranged from his wealthy mother and is now living in a poor part of Berlin with Petra, his girlfriend. Wolf is a compulsive gambler and every night he goes to an illegal casino which is set up in someone's front room in the more salubrious west of the city. Wolf is happy if he wins enough money to buy some food the next day and can pay the rent, sadly he often doesn't have the money and then he has to pawn Petra's clothes and she has to stay in bed. Of course he thinks he has a system and will win a fortune the next evening. A series of unfortunate incidents lead to Petra being jailed on what should have been their wedding day, but Wolf is so wrapped up in himself that he doesn't get around to even visiting her never mind getting her out.
Bizzarely Wolf leaves the city and gets work on a farm, despite having no farming experience he's working as a sort of manager in charge of the farm workers and foresters, but he really enjoys the hard work. It isn't long before he realises that the peasants aren't the honest toilers that he thought they were and are no better than the city dwellers had been. The owner of the farm is a power freak and miser who spends his time trying to ruin his son-in-law whom he has as a tenant on the farm. There are various relationships going on, none of them happy.
Then due to the political and economic situation some in the army organise a putsch which is a shambles and some on the farm are involved in it. This book does have a happy ending of sorts but I thought that Wolf's character made a very unlikely about turn as soon as he got into the country, and I kept wondering what was happening to Petra throughout most of the book, and for me she was the most interesting character.
The publisher thought that this book might get them into trouble with the Nazis, but it didn't. Fallada chose to stay in Germany during the Nazi era, that's something which others who had left Germany, such as Thomas Mann disliked him for. But in 1935 Fallada had been imprisoned by the Gestapo and described as an 'undesirable author' – not for long though as they couldn't find any anti-Nazi material in his home. I'm amazed they didn't plant stuff! Apparently Goebbels was breathing down Fallada's neck trying to get him to write an anti-semitic tract, that couldn't have been comfortable.
This is the third book that I've read by Fallada, I much preferred his Alone in Berlin to this one, despite it having a depressing ending.
This was on of my 20 Books of Summer.