The photo below is one which appeared on the front page of the Guardian the day after the much debated debate took place. As soon as I saw it I said to Jack 'That man still has his hand in his pocket!' It could have been worse, it's usually both hands which 'call me Dave' has hidden away. I dread to think what they're doing.
This seems to be what they learn at Eton, along with it being acceptable to walk around dressed as a Nazi – a la Prince Harry. To me it all looks like the height of arrogance, and to be fair, that is probably what people do send their offspring to posh private schools for – cultivating an air of superiority. It doesn't go down at all well with me though.
So I was really happy when I got to Steve Bell's Guardian cartoon to see that he obviously had the same feeling about the photo as I did, as you can see below, he should have kept to the usual hand in pocket stance though.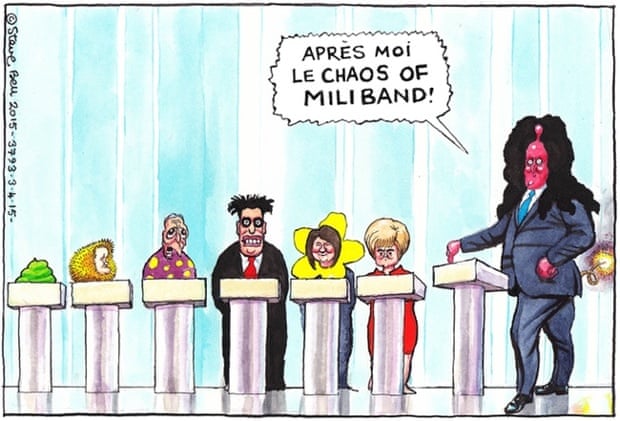 Elsewhere on the internet, there's a wee girl who thinks Cameron looks like this Thomas the Tank engine train, who apprently goes under the name of Spencer the silver express. I sort of see what she means.
We've got over a month to go of all this shenanigans, I'm going to attempt to keep myself sane by having a laugh!