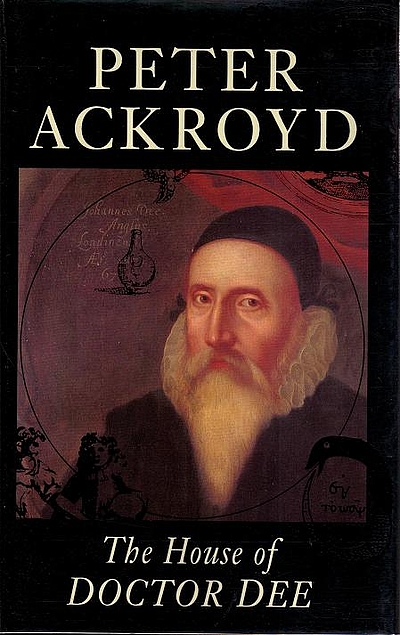 The House of Doctor Dee by Peter Ackroyd was first published in 1993 and it has probably been in our house since around that date – on Jack's shelves – but the title just jumped out at me a couple of weeks ago, probably because I had seen the name in the Maragret Irwin book I had been reading then. I decided to add it to my 20 Books of Summer list. I think this is number 6 for me that I've read from my list so far and it's the first book that I've read by this author, but won't be the last.
Matthew Palmer has inherited a house from his father, it's in London's Clerkenwell and nobody had known that it had been owned by the father. Matthew is intrigued as you would expect and even more so when he visits the house and realises that it's actually very old. As Matthew is a historical researcher it's right up his street. But the house has a strange atmosphere, especially in the cellar which must at one time have been the ground floor but has sunk over the last five or so centuries. Strangely Matthew's friend Daniel seems to be familiar with the house already.
Looking through some of his father's papers Matthew realises that his father was engaged in his own historical research, based on the writings of Doctor Dee who was a 16th century alchemist, mathematician, astronomer and astrologer, and some say was a sorcerer. He certainly managed to escape death when he was arrested by Mary Tudor's henchmen and taken to the tower, accused of trying to murder the queen using sorcery.
The narrative flits between Matthew's thoughts and problems and Doctor Dee's thoughts, research and home life and there's a sense of spooky creepiness permeating the contemporary Clerkenwell house. It's a good and interesting read.
The blurb on the back from the Sunday Telegraph says:
'He is such a master of mood, tension, angst, foreboding, frisson, but also of tenderness and exaltation, that one is drawn into his tale as by a magus.'
The cover is of a portrait of Doctor Dee which is apparently in the Ashmolean Museum, but the artist is unknown. Dee certainly looks the part though.