It's Classics Club Spin time again.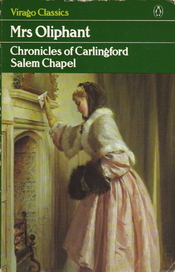 Salem Chapel by the Scottish author Margaret Oliphant was first published in 1863, originally in the weekly periodical Blackwood's Magazine, but I read a Virago reprint which dates from 1986, I think I've had it on my Virago shelf almost all of those 34 years! Salem Chapel is part of her Chronicles of Carlingford. Margaret Oliphant wrote over 120 books, she seems to have been one of those Victorian female authors who supported a larger extended family through her writing.
Arthur Vincent is a young newly qualified minister, a Nonconformist who has been chosen by the congregation of Salem Chapel to lead them. Very quickly it becomes obvious that the situation is not quite what Mr Vincent expected. Despite being Nonconformist and so not part of the more fashionable Church of England he is drawn to the more elegant and upper class members of the C of E. He's really quite embarrassed by the members of his own congregation, they drop their aitches and use double negatives and are mainly small tradesman such as grocers, milkmen and day school teachers.
Mr Tozer is the senior deacon of the chapel so he's in charge of the business side it seems, collecting the money from the churchgoers who apparently pay rent for their pews. But Mr Tozer deals in butter, cheese and bacon and his home smells of his wares. Mrs Tozer is kind but common and their daughter Phoebe is obvious in her admiration for the minister. But any minister would do.
This book is Victorian melodrama with a capital M. Really it would make a great TV series, much better than the very popular Mrs Gaskell's Cranford was, having said that it really drags in the middle and the 461 pages could have been cut by at least 100 pages. There's a railway chase down and up half the country which goes on too long, and there's an attempted murder and possible abduction. Of course Oliphant would have been paid for each instalment of the book so it was in her best interests to spin the tale out as much as possible.
I didn't enjoy this book as much as Miss Marjoribanks (pronounced Marchbanks) which is also part of the Carlingford series. Salem Chapel suffers from a paucity of likeable characters, although I don't think that would be such a problem if it was dramatised for TV. Really the disdained Mr amd Mrs Tozer were just about the only people that I liked, but the idea of a person finding after years of study that their personality is not suited to the profession they have chosen is very realistic I think.
You can see what Jack thought of the book here.