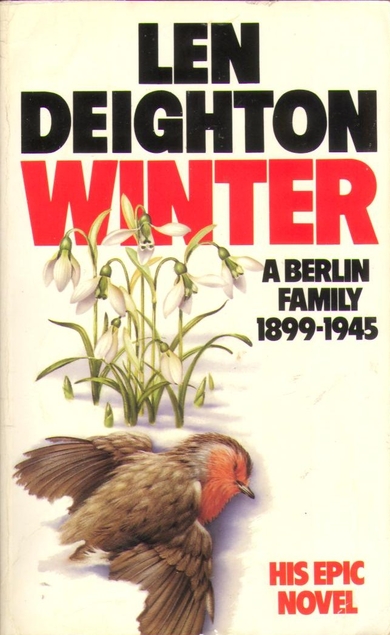 Winter – A Berlin Family 1899-1945 by Len Deighton was first published in 1987. The blurb on the back says it's Len Deighton's superb novel of one family and its dramatic part in the rise and fall of Nazi Germany. I loved this one and for anyone who is a bit perplexed as to how World War 2 and the Nazis came about this book will explain it all through the history of the Winter family. They've been working their way up society, helped by access to American money via Harald Winter's American/Jewish wife Veronica, her father agreed to invest money in Zeppelins, never thinking that in years to come they would be used to drop bombs.
Both of Harald and Veronica's sons are involved in World War 1 and by the time America joins in three years later Veronica has become a loyal German, despite her husband's constant infidelities, and although her parents want her to return to the US she won't do it.
Germans never did accept that they had lost the war and so were more than disgruntled at the terms of the armistice, so there are lots of men with big chips on their shoulders. Perfect conditions for the growth of something like the Nazi party, mainly supported by the dregs of society.
But nobody takes them seriously! All that nonsense about the Jews is just a way of getting votes, it's nothing to worry about.
I don't know if there is anyone around nowadays who doesn't understand how the Third Reich came about – if there are this is the perfect book to read, but I was brought up steeped in the war and still found it to be a great read. I did find it unlikely that there would have been people around in Germany who didn't think it was normal to dislike Jews, it was just part of their culture in so many European countries at that time.
Even the portrayal of the women (which some have complained about) is typically Germanic, in fact even way back in the 1970s I was shocked at how women were treated within families. It was still very much Kinder, Kuche, Kirche then and they were very much second class citizens compared with any males in the family – even wee boys – in Bavaria at least.
Anyway, this is a bit of a chunkster at 536 pages of quite small print but it didn't take me too long to read it as it is so enjoyable.